Go back
EU Health Emergency Preparedness and Response Authority (HERA) must define role in global preparedness ecosystem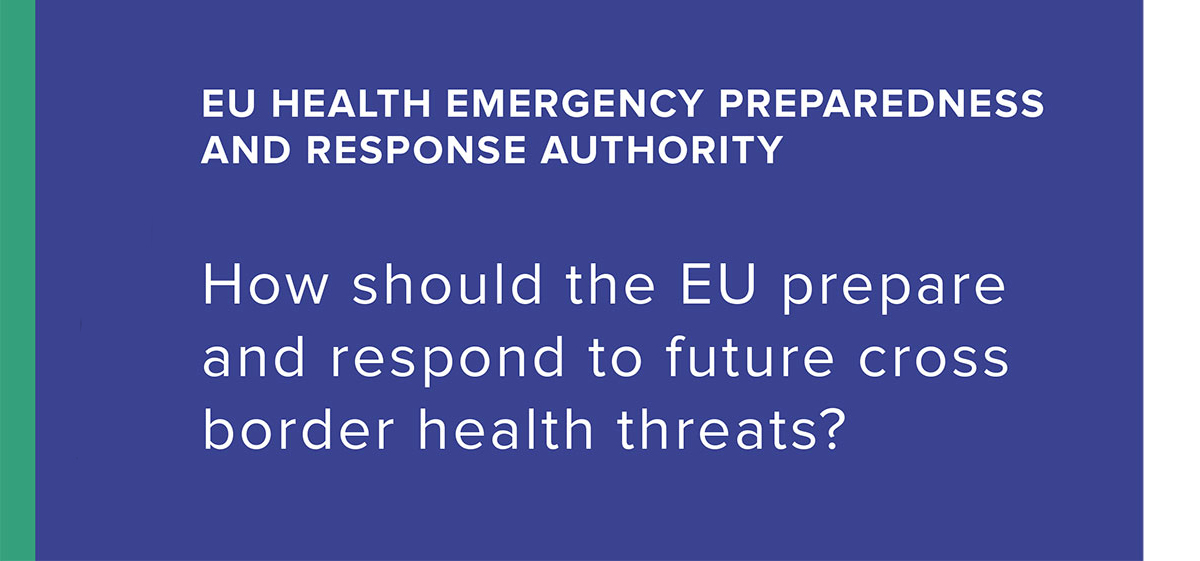 The EU's new health agency must grow its remit over time if it's to be successful, a new report today argues.
An initial narrow scope for HERA should not be interpreted as a lack of ambition. For Beth Thompson, Associate Director of Policy at Wellcome Trust, there is no doubt that the creation of the announced European Health Emergency Preparedness and Response Authority is a step in the right direction, "but, in the short term, HERA will only be effective if it asserts its authority without overstepping its role in relation to others, such as the European Centre for Disease Prevention and Control. By working closely collaboratively with other actors, HERA has the opportunity to play an important global role in future preparedness".
This is the conclusion of a joint report, "EU Health Emergency Preparedness and Response Authority: How should the EU prepare and respond to future cross border health threats?", published today (19 May) by the Wellcome Trust and the Federation of the European Academies of Medicine (FEAM).
In the long-term, and between crises, the report recommends that HERA seeks to harmonise the European research and development landscape for pandemic preparedness and response. George Griffin, President of FEAM and Emeritus Professor of Infectious Diseases and Medicine at St George's University of London says this harmonisation will allow HERA to remain "relevant and active between emergencies and should be a core part of the forthcoming assessment that will guide the EU Commission's proposal".
Wellcome Trust and FEAM also stressed that the agency must ensure its work is connected to agencies and actors in Europe and worldwide and should form part of a new preparedness ecosystem. Principles of global cooperation and equitable access should be at its heart.
The European Commission plans to legislate for HERA in September 2021, with the agency starting work in 2023.
About the report:
 In 2020, the European Commission announced the EU Health Emergency and Preparedness Response Authority (HERA) as part of a broader set of proposals for an EU Health Union. This report sets out the role that HERA could fill in the evolving European Health landscape. It is informed by interviews with over 40 experts from research organisations, civil society, think tanks and industry, based in Brussels, EU Member States and beyond.  Although consultation was a crucial element of the project, the report recommendations are independent and reflect the opinions of the Wellcome Trust and the Federation of European Academies of Medicine.
Key Recommendations of the report
HERA must be focused, yet flexible to deliver results, build credibility and consider the long-term.
In the short-term, HERA should focus on filling the gap at a European level on medical countermeasures for pandemic preparedness and response, and ensure they are accessible to low- and middle-income countries. At the same time, it should be realistic about what it can achieve with the funding available.
The structure, remit and funding of HERA must be ambitious and flexible to react in scenarios different from the COVID-19 context.
In the mid- to long-term, the Commission should analyse all cross-border health threats facing European citizens and propose a larger ambition for HERA. Activities HERA pursues in the future should be defined after an in-depth gap analysis.
The creation of HERA is an opportunity to harmonise the European research and development landscape for pandemic preparedness and response.
HERA should formalise and coordinate end-to-end oversight for R&D efforts across the EU during health emergencies.
HERA must maintain expertise and resources between crises.
HERA should embed a One Health approach.
HERA must be independent in its activities and governance, and guided by the principles of transparency, autonomy and accountability.
A clear mandate is needed for HERA to respond effectively in a crisis.
Transparency in HERA's decision making is critical for accountability and to build trust in its actions.
HERA must be an independent public Authority.
HERA should use its independence to take strategic and evidence-based risks.
HERA must be collaborative to build on strengths in the EU health and research system.
HERA must work closely with other EU institutions, initiatives and programmes to enable and amplify, rather than detract from, existing activities.
HERA must work closely with Member States to build legitimacy and trust, incorporating and sharing national expertise.
HERA must build and maintain relationships between crises so that in emergencies it can respond quickly in collaboration with trusted partners.
HERA must prioritise building strong relationships with industry.
HERA must build a broad base of support to be effective
HERA must be global in its approach to health threats to reflect European values, by embedding coordination and access in its work.
HERA must take a global approach to emergency preparedness and response.
HERA should prioritise equitable access in its funding and operations.