Go back
FEAM-CMA Conference: Current risks and threats for health and health care in Europe – 6 December 2022, 13.00 – 16.15 (CET)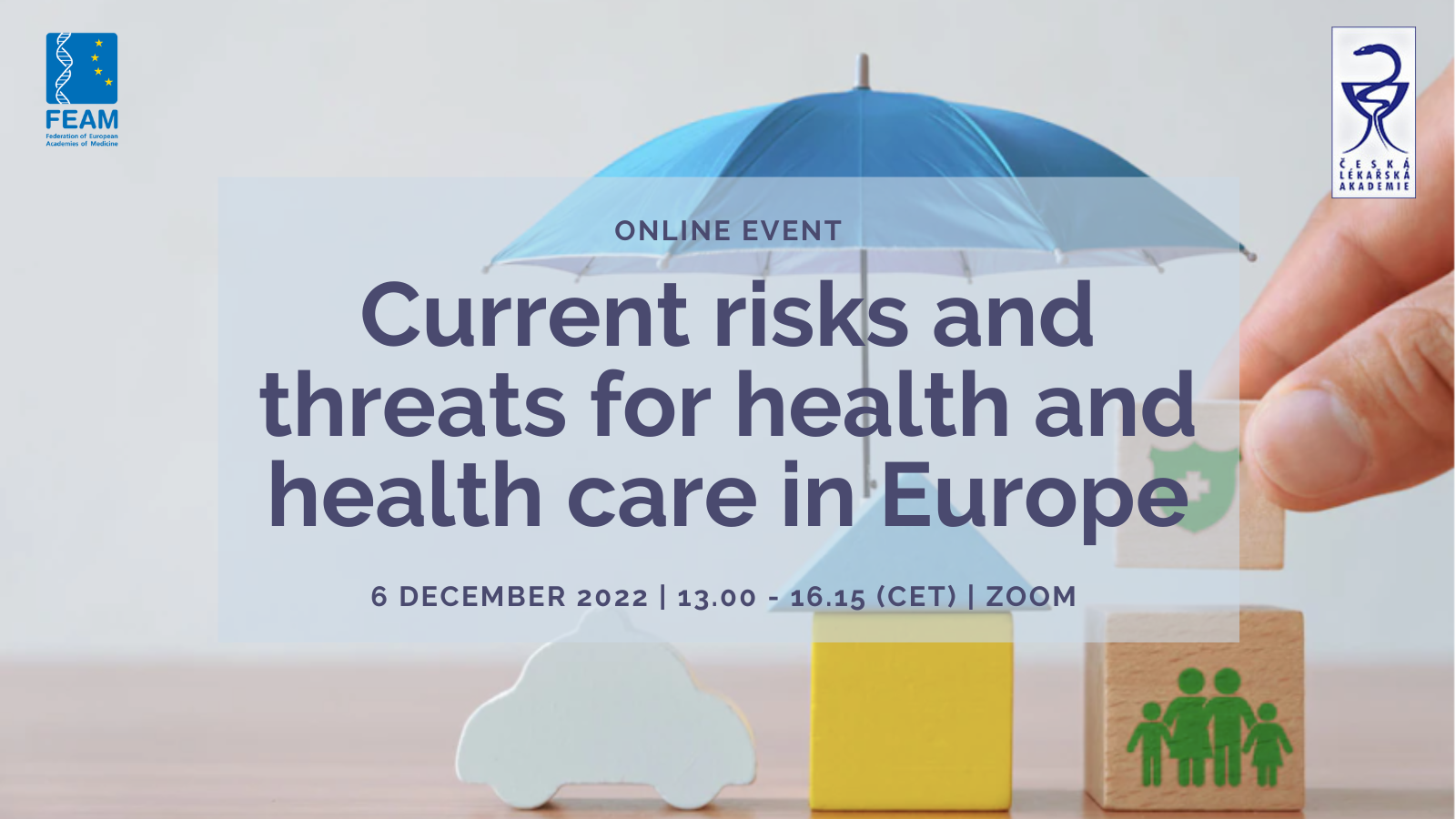 FEAM – Czech Medical Academy  Conference
Current risks and threats for health and health care in Europe
6 December 2022 | 13.00 – 16.15 (CET)
Zoom access: https://us06web.zoom.us/j/89520226599
Programme:
13.00. – 13.10: Welcome remarks
Professor Michal Anděl, President of Czech Medical Academy and Professor Stefan Constantinescu, President of the Federation of European Medical Academies (FEAM)
13.10 – 13.40: Evolution and implementation of One Health concept
Professor André Jestin, Vice-president of FEAM
13.40 – 14.10: Strengthening population mental health in the time of multi-risk situation
Dr. Petr Winkler, Director, National Institute of Mental Health (NIMH) Klecany
14.10 – 14.40: Threads for drug availability in contemporary global pharmaceutical production and distribution
Professor Aleš Linhart, FCMA, Head of Second Department of internal medicine – cardiology, General University Hospital and First Faculty of Medicine, Charles University Prague
14.40 – 15.10: Risk of undernutrition as a consequence of war, climatic change and social instability in modern Europe
Professor Michal Anděl, FCMA, Head, Center for Research of Nutrition, Metabolism and Diabetes, Third Faculty of Medicine, Charles University, Prague
15.10 – 15.30: Crisis preparedness in Czech hospitals – lessons learned from COVID-19 epidemics
MUDr. Petr Michenka, Charles University Prague
15.30 – 15. 50: Novel risks of health problems and diseases as a consequence of climatic change
MUDr. Anna Kšírová, Parents for Climate Liberec.
15:50 – 16:15: Conclusions
Professor Michal Anděl, President of Czech Medical Academy, Professor Aleš Linhart, Vice-President of Czech Medical Academy, and Professor Stefan Constantinescu, President of FEAM