Go back
Migration, Health, and Medicine Conference -22 November 2019, Brussels
Jointly organised by FEAM with the European Federation of Academies of Sciences and Humanities (ALLEA)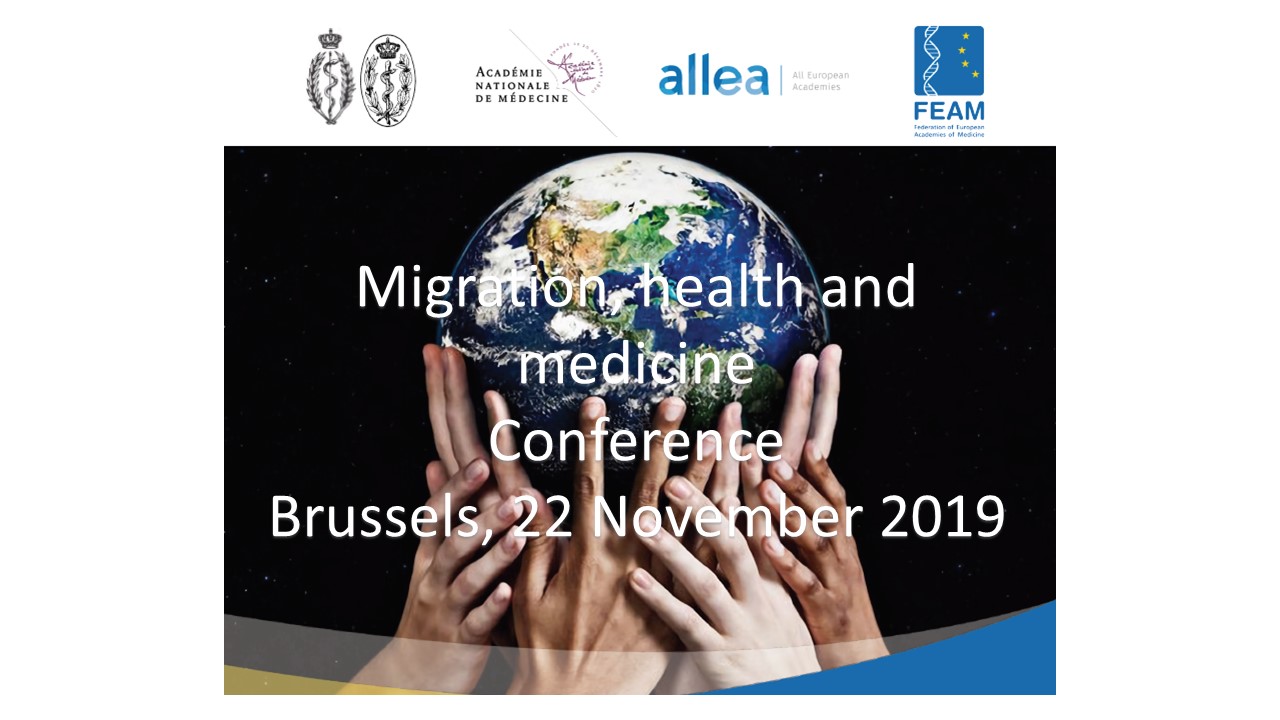 The Conference on Migration, Health and Medicine was hosted by the Royal Academies of Medicine of Belgium (ARMB and KAGB) in collaboration with the French Academy of Medicine (ANM). It was sponsored by the SFPI-FPIM, the Federal Holding and Investment Company. The Conference took place on 22 November 2019 at the Palace of the Academies, Rue Ducale/Hertogsstraat 1, 1000 Brussels. 
Migration, Health and Medicine
Recent changes in the scale and distribution of forced migrants across the globe are presenting new challenges to healthcare systems in host European countries. Promoting the health status of refugees and migrants has been prioritized by the WHO through multiple actions. All these actions call upon Member States to promote the health of refugees and migrants through refugee- and migrant-sensitive health policies and health care, equitable access to health care, evidence-informed practice and refugee and migrant health information systems. 
For refugees and migrants, communicable diseases have received the most attention but there is growing awareness that a broad range of issues, such as non-communicable disorders, maternal and child health and mental health, also require targeted policy and culturally sensitive practice. The health challenges span also mental and physical health. 
In advancing their mission, the European Academies have an advisory role to play regarding European and national policies. The purpose of this Conference was therefore to raise awareness of the European Academies on the particular medical, physical and mental but also geopolitical, and social aspects of health problems of migrants. 
Migration Health and Medicine Conference press release
Presentations 
EU EFFORTS TO ADDRESS MIGRATION AND HEALTH  John F. Ryan, Director, Public Health, Country knowledge and crisis management, European Commission
PUBLIC HEALTH IMPLICATIONS OF REFUGEE AND MIGRATION MOVEMENTS IN THE WHO EUROPEAN REGION, Dr. Elisabeth Waagensen, WHO Regional Office for Europe
FROM CARE FOR MIGRANTS ON THEIR ROAD TO THE IDENTIFICATION OF A MODEL OF HEALTH AND MIGRATION: THE EXPERIENCE OF DOTW, Dr. Xavier de Béthune, Medical Director, Médecins du Monde, Belgium
MIGRANT HEALTH AND ITS ECONOMIC ASPECTS, Dr Sonja Novak-Zezula, Managing Director of the Center for Health and Migration, Austria
MENTAL HEALTH OF ADULTS AND YOUNG PEOPLE, Professor Maria Melchior, INSERM, Epidemiologist, Research Director at the French National Institute of Health and Medical Research (INSERM)
MIGRANT HEALTH AND INFECTIOUS DISEASES: A CAUSE FOR CONCERN?, Professor Manuel Carballo, Executive Director of the International Centre for Migration Health and Development ICMHD
THE UCL–LANCET COMMISSION ON MIGRATION AND HEALTH: THE HEALTH OF A WORLD ON THE MOVE, Professor Ibrahim Abubakar, Director, UCL Institute for Global Health / Chair, Lancet Commission on Migration and Health
MATERNAL AND PERINATAL CARE AMONG MIGRANTS, Professor Pierre Buekens, Director of the center for emerging Reproductive and perinatal Epidemiology Tulane university, USA
MIGRANT HEALTH IN EUROPE: THE IMPORTANT ROLE OF UNIVERSITIES, Professor Luciano Saso, Vice-Rector for European University Networks, Faculty of Pharmacy and Medicine, Sapienza University of Rome, Italy
MIGRANTS AND COMMUNICABLE DISORDERS: THE EXPERIENCE IN BELGIUM, Professor Erika Vlieghe, Head, Department of General Internal Medicine, Infectious diseases and Tropical medicine, University Hospital Antwerp
ACCESS TO HEALTH CARE IN EUROPEAN COUNTRIES, Professor Alfred Spira, French Academy of Medicine
Related projects