Go back
2nd European ONE HEALTH Conference | 21-22 June 2019 – SUMMARY REPORT NOW AVAILABLE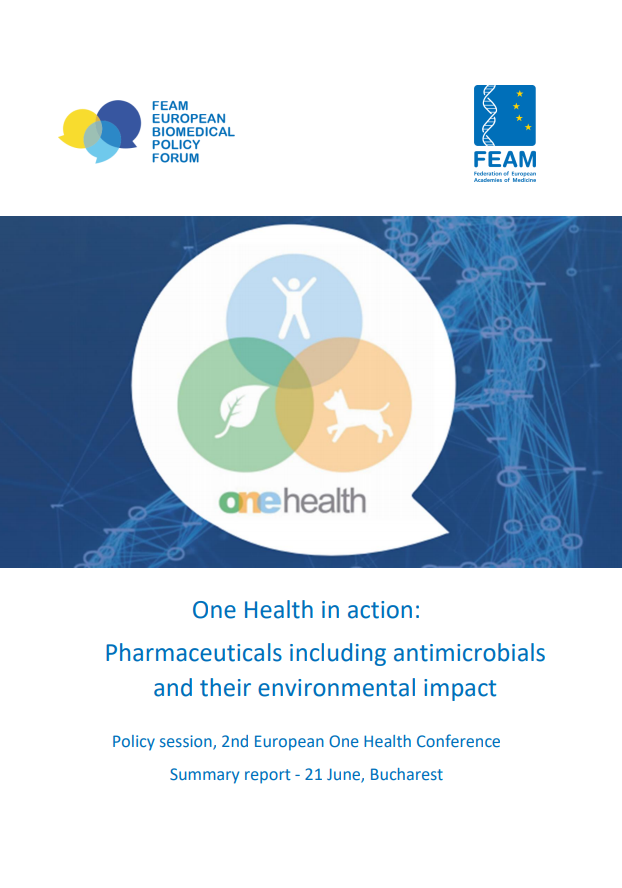 "Pharmaceuticals including antimicrobials and their environmental impact"
Policy session & Roundtable discussion
21 June 2019, 10.00 – 13.30
Spiru Haret University, Berceni Sos., no. 24, District 4, Bucharest, Romania
The "European Union Strategic Approach to Pharmaceuticals in the Environment" focuses on the effects of rising volumes of pharmaceuticals in the environment. Sustained efforts are needed to promote the prudent use of pharmaceuticals, develop "green pharmaceuticals", and fill current knowledge gaps. Against this background, the FEAM European Biomedical Policy Forum convened a policy session and roundtable to discuss the effects of pharmaceuticals in the environment, including on AMR. The policy session & roundtable discussion was organised in collaboration with the Romanian Academy and the Romanian One Health Institute and preceded scientific presentations within the 2nd European One Health Conference, including the following: 
About FEAM
FEAM's mission is to promote cooperation between national Academies of Medicine and Medical Sections of Academies of Sciences in Europe; to provide them with a platform to formulate their collective voice on matters concerning human and animal medicine, biomedical research, education, and health with a European dimension; and to extend to the European authorities the advisory role that they exercise in their own countries on those matters.
About the FEAM European Biomedical Policy Forum
The FEAM European Biomedical Policy Forum provides a platform for discussion on key policy issues for the biomedical community. The Forum is an initiative from the Federation of European Academies of Medicine (FEAM). It aims to bring together representatives from academia, research charities, industry, European and national trade associations and professional bodies, regulators, public health bodies, and patient and consumers groups. If you would like further information on the FEAM European Biomedical Policy Forum or becoming a partner, please contact elisa.corritore@feam.eu.