Go back
Forum Planning Meeting, 11th May 2022 – 11.00 – 12.45 (CET) (for partners only)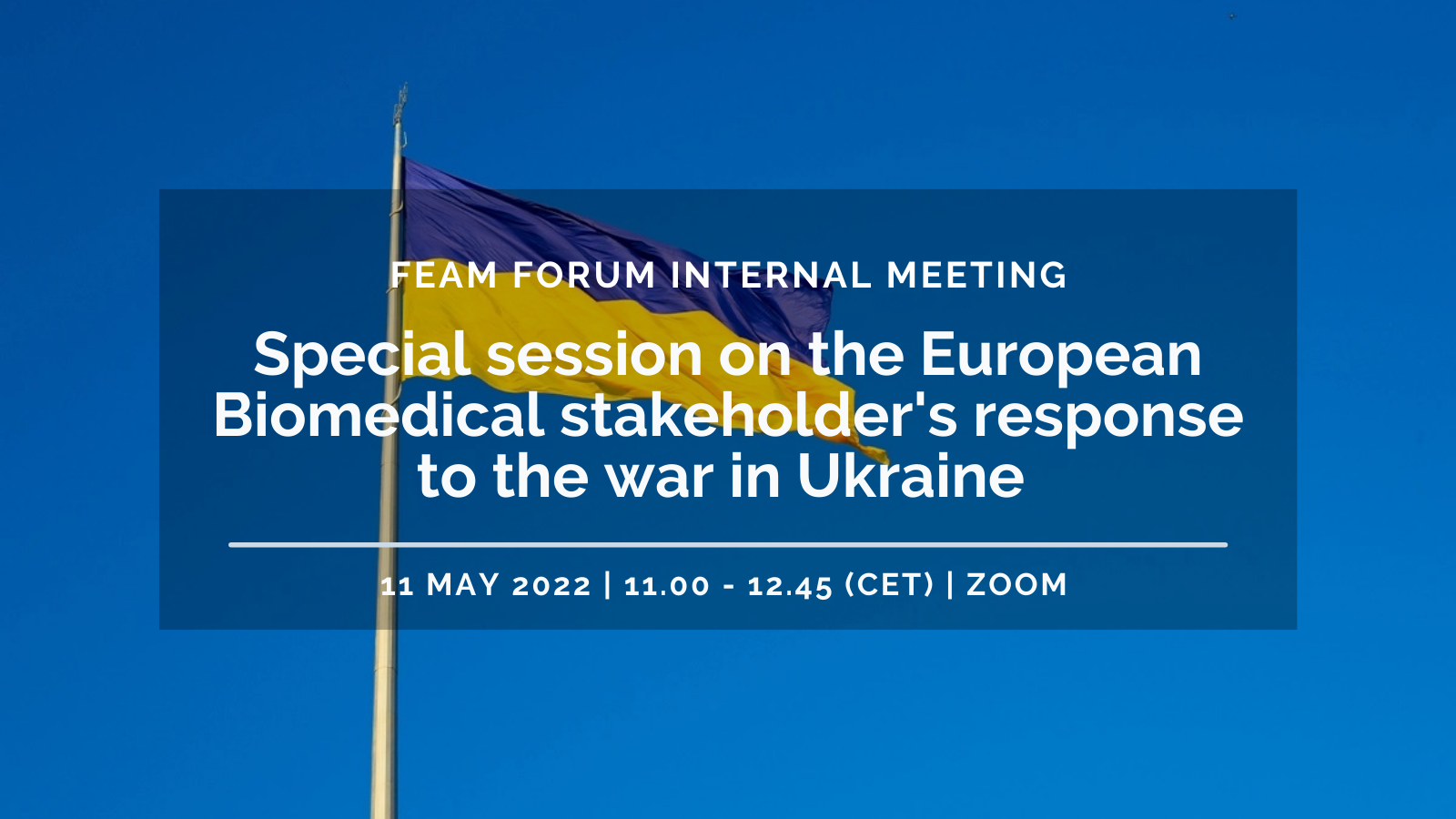 Forum Internal Meeting
Special session on the European Biomedical stakeholder's response to the war in Ukraine
11 May
11.00 – 12.45 (CET)
The ongoing conflict in Ukraine has resulted in a grave humanitarian crisis, which is worsening daily. Neighbouring countries are receiving hundreds of thousands of Ukrainian refugees fleeing their country, and citizens are in need of immediate health and humanitarian assistance. The European Commission and the World Health Organisation have been working on all fronts to help provide emergency assistance. However, further support is urgently needed.
In order to help European authorities in coordinating interventions to support the Ukrainian population, the FEAM European Biomedical Policy Forum, is organizing an internal discussion with its members on the 11th May 2022 to assess with European Biomedical stakeholders, policymakers and academics, current efforts and possible opportunities for collaboration.
This meeting is exclusively reserved for FEAM Forum partners. Are you not yet a Forum partner? Check out how you can join this platform for discussion on key policy issues for the biomedical community.
Programme of the meeting
Moderator: Dr. Elisa Corritore, FEAM Forum Scientific Policy Manager
External interventions
– Isabel de la Mata, Principal Advisor for Health and Crisis management, EU Commission
– Richard Sullivan, WHO Emergency Committee Member
– Pierre Van Heddegem, Desk Officer RDC/Emergency Ukraine at Médecins du Monde, Belgium
Roundtable discussion
– Koen Berden (EFPIA): Access and supply of medicines – R&D and clinical trials
– Mike Morrissey: ECO-ASCO Special Network – Impact of the War in Ukraine on Cancer
– Kate Ling (NHS CONFEDERATION): Summary of the assistance offered to Ukraine by the
UK health system
– Martina Continisio (EPF) – EPF stands in solidarity with Ukraine
– Nancy De Briyne and Despoina Iatridou (FVE) – Veterinary Professionals in support for
Ukraine
– Annabel Seebohm (CPME): The Ukraine Medical Help Fund, a joint initiative by CPME,
EFMA and WMA: https://www.cpme.eu/news/donate-to-the-ukraine-medical-helpfund
External participants
– Bernhard Plunger, Austrian Academy of Sciences – Exchange programme with Ukraine
– Peter McGrath, InterAcademy Partnership (IAP)
– Alex Hulme, UK Academy of Medical Sciences
– Susana Irles, European Federation of Academies of Sciences and Humanities
(ALLEA): Funding scheme: https://allea.org/european-fund-for-displaced-scientists/