Go back
PERISCOPE's Final Conference: From Data Science and Socio-Economic Research to Policy and Technology – Learning from COVID-19 to Build Better Health and Care in Europe – 8 September 2023, 09:00 – 19:00 (CET)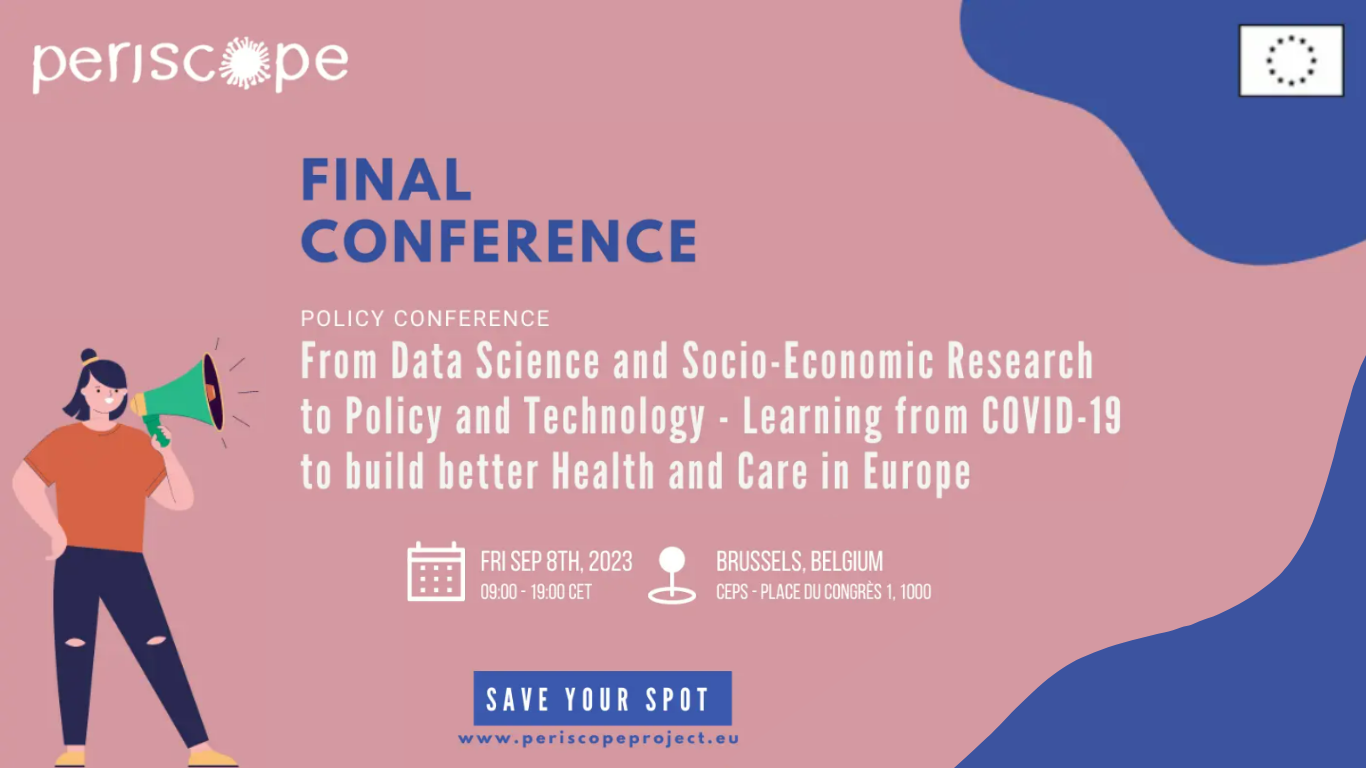 Conference
From Data Science and Socio-Economic Research to Policy and Technology – Learning from COVID-19 to Build Better Health and Care in Europe
8 September 2023 | 09.00 – 19.00 (CET)
CEPS – Place du Congrès 1, Brussels | Online
Watch the recording here
The final conference of the Horizon 2020 project PERISCOPE (Pan-European Response to the Impacts of COVID-19 and future Pandemics and Epidemics) will take place on the 8th of September in Brussels.
The event, titled "From Data Science and Socio-Economic Research to Policy and Technology – Learning from COVID-19 to Build Better Health and Care in Europe", will delve into the socio-economic and behavioral impacts resulting from the policies implemented in response to the pandemic and examine how policy responses have influenced the path towards better health outcomes in Europe. Over the course of the project, PERISCOPE's team has been at the forefront of data science, economic research, and technological innovations in response to the COVID-19 pandemic. Now, as the project nears its end, it is time to reflect on the collective efforts and the valuable lessons learned.
This full-day event will present the project's policy recommendations and will gather researchers, policymakers and representatives from medical institutions. Professor George Griffin is one of the speakers that will reflect on the future of EU public health.
Have a look at the event panels and the lineup of speakers. You can find the full agenda here.
Read the highlights and key takeaways here and watch the recording of the conference here.