Go back
FEAM signs joint healthcare statement on access to innovative healthcare under the Artificial Intelligence Act (AI Act)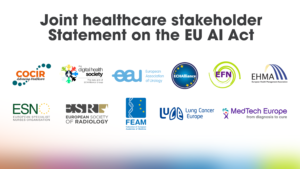 One of the topics FEAM has been focusing on lately is how Artificial Intelligence is changing the landscape of medical science. AI in healthcare is expected to play a major role in redefining the way we process healthcare data, diagnose diseases, develop treatments and even prevent them altogether.
Today, FEAM joined 10 healthcare associations across Europe, from patients to healthcare professionals and medical technology industry, with a shared goal of improving health outcomes and healthcare systems.
In our joint statement, we share our views on how the AI Act can give citizens the confidence to embrace AI-based solutions, including AI-enabled medical technologies.
Many existing AI solutions that are being used in national healthcare systems are integrated in medical technologies and regulated under the Medical Devices Regulation (MDR), and the In Vitro Diagnostic Medical Devices Regulation (IVDR). As medical technologies constitute an integral component of healthcare systems, it is essential that the AI Act will facilitate the delivery of innovative healthcare.
In the statement, four considerations to be taken into account during the trilogue negotiations are presented. The AI Act must:
– align with all relevant horizontal and sectoral European laws and concepts;
– provide more clarity on the definitions;
– provide a clear data and data governance framework as data is indispensable for AI;
– ensure uniform application and implementation of its provisions across Member States regarding its governance structure to avoid unnecessary fragmentation within the Single Market.
Read the full statement.